Register to Vote Socialist in New Jersey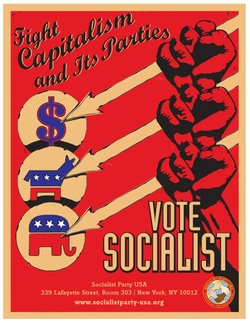 After a 2013/14 lawsuit against the State of New Jersey, the Socialist Party of New Jersey was successful in gaining voter registration for socialists in New Jersey.
The result of that lawsuit was the addition of the Socialist Party of New Jersey to the NJ Political Party Affiliation Declaration Form. This allows voters in New Jersey to register as a socialist and declare their independence from the Democratic Party.
You do not need to be a dues-paying member of the Socialist Party USA to declare your voting affiliation with the SPNJ. The purpose of the form is to declare your support for the politics of any of the parties listed, which in our case is
democratic socialism
and the ideas put forward in our
Statement of Principles
.
---
---
To change your voter registration to Socialist Party of New Jersey:
1.
Download and print out the
NJ Political Parties Affiliation Declaration Form
.
2. Check off "Socialist Party of New Jersey" and fill in all of your information.
3. Mail the form to your county's Superintendent of Elections or Commissioner of Registration (title varies by county).
Click here
to find the name and mailing address for your county.
After mailing the form, you should receive a letter from your county official confirming the registration change.

Socialist Party of New Jersey c/o PO Box 457, Red Bank NJ 07701