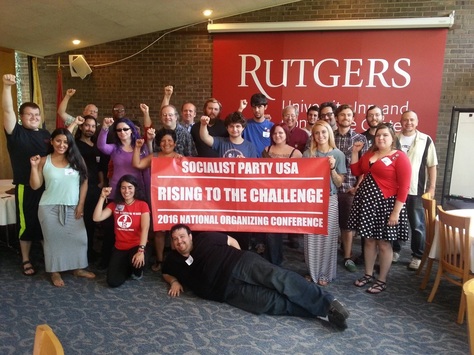 THE SOCIALIST PARTY OF NEW JERSEY
strives to establish a radical democracy that places people's lives under their own control - a non-racist, classless, feminist socialist society... where working people own and control the means of production and distribution through democratically-controlled public agencies, cooperatives, or other collective groups.; where full employment is realized for everyone who wants to work; where workers have the right to form unions freely, and to strike and engage in other forms of job actions; and where the production of society is used for the benefit of all humanity, not for the private profit of a few.
(From the Socialist Party USA Statement of Principles)


We are a state organization of the Socialist Party USA.

To learn more about us and our politics, we invite you to read our Statement of Principles, Points of Agreement, and
Party Platform.

---
Click on the link above for information on how to join the Socialist Party USA.




By joining the SPUSA and living in New Jersey, you also become a member of the Socialist Party of New Jersey.


If you have questions about joining the Socialist Party, please contact our State Secretary here.


Calendar of Events


The Socialist


The Socialist

is the official publication of the Socialist Party USA.




Recent SPUSA Statements


---

The Socialist Party of New Jersey is

proud to be a member of 15 Now NJ

and a partner in the fight for a

living wage in New Jersey.

Learn more at 15NowNJ.org


---
Socialist Party of New Jersey c/o 239 Spring St Apt C6 Red Bank NJ 07701