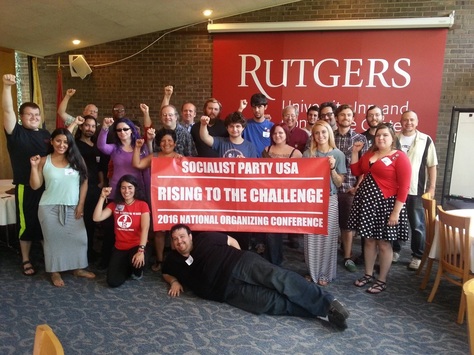 THE SOCIALIST PARTY OF NEW JERSEY
strives to establish a radical democracy that places people's lives under their own control - a non-racist, classless, feminist socialist society... where working people own and control the means of production and distribution through democratically-controlled public agencies, cooperatives, or other collective groups.; where full employment is realized for everyone who wants to work; where workers have the right to form unions freely, and to strike and engage in other forms of job actions; and where the production of society is used for the benefit of all humanity, not for the private profit of a few.
(From the Socialist Party USA Statement of Principles)
We are a state organization of the Socialist Party USA.

To learn more about us and our politics, we invite you to read our Statement of Principles, Points of Agreement, and
Party Platform.
---
Click on the link above for information on how to join the Socialist Party USA.




By joining the SPUSA and living in New Jersey, you also become a member of the Socialist Party of New Jersey.


If you have questions about joining the Socialist Party, please contact our State Secretary here.



Calendar of Events


Click for a full listing of SPUSA events

(scroll down to Upcoming Events)

March 3rd- March with Women Against War!

11 AM - 1 PM

465 Dr Martin Luther King Jr Blvd, Newark, NJ ​

Event Page

The Inaugural March with Women Against War will be taking place Sat., March 3 in commemoration of International Women's Day. We meet at the Dr. Martin Luther King Jr. Monument in downtown Newark.

After a 2013/14 lawsuit against the State of New Jersey, the Socialist Party of New Jersey was successful in gaining voter registration for socialists in New Jersey.

The result of that lawsuit was the addition of the Socialist Party of New Jersey to the NJ Political Party Affiliation Declaration Form.

Click here for more information

---

2017 NEW JERSEY ELECTIONS

​2017 Election Statement
​
On November 7th, New Jersey voters will be going to the polls to elect a new governor. As is usually the case in the Garden State, the choices we have leave much to be desired. While Republican Kim Guadagno represents a continuation of the last 8 years of damage to this state endured under the administration of Chris Christie, Democrat Phil Murphy represents something else altogether. Phil Murphy is a corporate democrat in progressive clothing. He may talk a good game on certain issues but once we start to peel back the layers, we see him for what he truly is: more of the same. He may be more gentle as conditions in New Jersey worsen, but he will allow them to worsen all the same.

Given the position that we, the people of New Jersey find ourselves in, the Socialist Party of New Jersey (SPNJ) can not in good conscience endorse voting for either candidate. We are prepared for the criticism, we've heard it all before about how we have a duty to vote for the candidate of least harm. I think it's safe to say that as socialists, we are justified in the expectation of elected officials who do no harm rather than less than their opponent.

There is also the question of the two ballot questions to be voted on. It is the opinion of the SPNJ that a yes vote to both would be in order as their passage would ensure increased availability of public services, improvements to the environment, and would take the power to decide what to do with a large sum of public funds out of the hands of the government of New Jersey and into that of its people. We are being given an opportunity to decide for ourselves where our money will go and should not hesitate to do just that.

At our state convention this past March, the SPNJ decided that it would not run its own candidate in the race for governor and would abstain from offering any endorsements to others. It's not that what don't believe in electoral politics, but rather it's the realization that any kind of substantive change can not be handed down from on high. We instead decided to dedicate our time and resources towards improving the conditions in our own communities. We call this our Campaign for Democratic Socialism and it's about putting our beliefs to practice in order to offer tangible improvements to the quality of life of the residents of New Jersey. It's about identifying the challenges our communities and working to ensure a tangible solution.
​
Voting is essential to democracy but it's not the only thing. It's the community based work that we engage in that will bring about the most significant change. It's hard work with many obstacles, but once those obstacles are overcome the possibilities to help one another are endless. We hope you join us!
​
The Socialist

​

The Socialist is the official publication of the Socialist Party USA.

To read the magazine or webzine

click here

. To submit an article for publication consideration, please read

The Socialist Writing Guidelines and submit your article here.

Recent SPUSA Statements


---

The Socialist Party of New Jersey is

proud to be a member of 15 Now NJ

and a partner in the fight for a

living wage in New Jersey.

Learn more at 15NowNJ.org


---
Socialist Party of New Jersey c/o 239 Spring St Apt C6 Red Bank NJ 07701